How We Care For You
Our team of podiatrists are qualified to diagnose and treat a wide range of foot conditions. We are competent to diagnose skin and nail conditions, examine the mechanics of the foot and lower limb and treat associated painful conditions such as Planterfasciitis, Morton's Neuroma and metatarsalgia. If you have foot pain its best to see a Podiatrist.
The Services We Can Offer
Routine chiropody treatment
Regular visits to Dalkey Podiatry clinic will help to keep your feet going in the right direction. Our Podiatrists are qualified to cut toe nails and remove corns calluses. We can provide advice on how to treat and prevent common foot issues like ingrown toe nails, corns on digits and the soles of the feet. We are familiar with nail conditions such as fungal, psoriatic, thickening discolouration and splitting. Also treatment and management of skin conditions such as cracked and fissured heels, hyperhidrosis, bromhydrosis and anhydrosis. 
Verrucae treatment
Verrucae and planter warts are common amongst all age group, they are a viral skin infection that is caused by the HPV (human papilloma virus). There are many types of the virus and some patients present with a single lesion or others may present with multiple mosaic types that cover the digits and planter aspects of the foot. They tend not to be painful unless squeezed, pinched or constant pressure applied. They are benign skin lesions.
At Dalkey Podiatry we now provide the revolutionary new Swift Microwave Therapy as well as  cryotherapy, chemical debridement and occlusion treatment plans to treat these conditions. Swift Microwave Therapy is very successful in removal of stubborn verruca which have not responded to more traditional treatments.
Read more about our Swift Microwave Therapy treatment.
Further information can also be found  on http://treatverruca.com
Dementia Friendly Service
At Dalkey Podiatry Clinic we are proud to be an approved Dementia friendly clinic. We have completed the dementia friendly course approved by Home Instead and are trained how to take care of patients who maybe suffering with Alzheimer's, Dementia or Mental health Conditions.
Attending for treatment can be a traumatic and disorientating experience for these patients. So we offer both home visits and a calm environment for patients to receive their treatment and give advice to both the patients and their carers on best practice for each individual.
Diabetes Foot Checks
According to the National Diabetes Foot care Program, by the HSE, 8 people a week loose a lower limb to Diabetes complications. There has been a increase in lower limb amputations from 393 in 2013 to 440 in 2015. It is estimated that there are over 225,000 people currently living with Diabetes in Ireland and this is steadily increasing annually.
Type 1 and Type 2 Diabetic patients can over time develop secondary lower limb and foot complications. Poorly managed Diabetes can lead to the development of Vascular (circulation) and Neurological (loss of or heightened feeling/ sensation) problems in their feet.
At Dalkey Podiatry Clinic, our Podiatrists are experts in assessing and managing an array of complex diabetic foot problems. If you have diabetes and have not had a foot check in the last 12 months click to book now .
You can READ MORE on our page about Diabetes and your feet here
Rheumatology and Connective Tissue Disorders Foot Care Checks
Rheumatology and Connective Tissue Disorders covers a spectrum of painful inflammatory related conditions that commonly involve the foot and ankle.
In Dalkey Podiatry Clinic our Podiatrists are skilled in assessing and treating an array of complications associated with Rheumatology and CTD conditions such as Rheumatoid Arthritis, Osteoarthritis, Osteoporosis, Gout, Psoriatic Arthritis, Polymyalgia, Vasculitis, Anchylosing Spondylitis, Raynaud's and Scleroderma, Marfan Syndrome, Ehlers Danlos Syndrome.
You can READ MORE about Rheumatology and Connective Tissue Disorders on our page here
Complex foot disorders
Your foot's structure can be affected by diseases of the autoimmune, vascular, nervous and musculoskeletal systems, potentially causing foot deformities that affect sensation, mobility and result in painful and sore feet.
At Dalkey Podiatry Clinic we understand feet and the complex way they work.  Every foot is different and at Dalkey Podiatry Clinic, our qualified podiatrists have expertise in the management of collapsed feet, high arches, pigeon toes, wound care, bone fractures and neurological diseases affecting the lower legs. We have access to a number of conservative treatment modalities including orthotics and orthopedic footwear.
Children's foot problems
Children's feet are continually developing form birth to sixteen. Each individual child develops at different time frames to that of their peers and other family members. Therefore some children present with flat feet, in-toeing gait, heel pain, Severs Disease, Osgood Schlaters, Dyspraxia, hypermobility, ligamentous laxity. Some even develop toe- nail conditions, ingrowing toe nails, sweaty smelly feet.
These are all conditions that Podiatrists at Dalkey Podiatry Clinic are qualified to treat. Our Podiatrists can prescribe orthotics, give foot wear advice, treat any dermatological conditions that maybe present.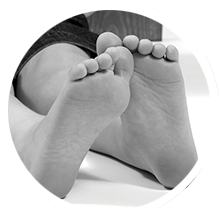 Many children present with flat feet or walk with an in-toeing gait. Some children who present with Dyspraxia and Hypermobility Syndrome require assistance with...
READ MORE HERE