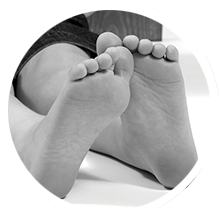 Many children present with flat feet or walk with an in-toeing gait. Some children who present with Dyspraxia and Hypermobility Syndrome require assistance with...
READ MORE HERE
The Podiatrist studies lower limb, foot and ankle conditions. They hold a BSc in Podiatry and are qualified to diagnose, treat and give advice regarding managing a wide range of foot conditions that affect skin, nails and foot biomechanics. The Podiatrists objective is to improve and maintain their patients mobility. All of our Podiatrists are HSE approved and have a BSc in Podiatry from both the UK and Ireland.
Read more about Jennifer Maxwell, business owner and lead podiatrist at the Dalkey Podiatry Clinic.
We Are Now Open for Appointments
To make a booking please go to our online booking form which you can find here.