A Dementia Friendly Service
At Dalkey Podiatry Clinic we are proud to be an approved Dementia friendly clinic. We have completed the dementia friendly course approved by Home Instead and are trained how to take care of patients who maybe suffering with Alzheimer's, Dementia or Mental health Conditions.
Attending for treatment can be a traumatic and disorientating experience for these patients. So we offer both home visits and a calm environment for patients to receive their treatment and give advice to both the patients and their carers on best practice for each individual.
We Call to the Patient's Home or Nursing Home
We are available to call to a patient's home, a nursing home or hospital. Arrange to be treated in the comfortable environment of your own home.
We guarantee that the service we bring to your home is of the same high quality we provide at our clinic. Infection control is an important aspect of the service we provide. All instruments are sterilised individually and vacuum packed prior to our visits. Be assured that even though you are treated at home, we use the identical sterilisation controls that we use in our clinic. We aim to be your centre of excellence for all your footcare needs.
Routine chiropody treatment
Regular visits to Dalkey Podiatry clinic will help to keep your feet going in the right direction. Our Podiatrists are qualified to cut toe nails and remove corns calluses. We can provide advice on how to treat and prevent common foot issues like ingrown toe nails, corns on digits and the soles of the feet. We are familiar with nail conditions such as fungal, psoriatic, thickening discolouration and splitting. Also treatment and management of skin conditions such as cracked and fissured heels, hyperhidrosis, bromhydrosis and anhydrosis.
Prescription Footwear and Orthotics
Comfortable footwear is essential to maintaining your mobility. At Dalkey Podiatry Clinic we provide custom made orthotic and orthopaedic footwear fitting. Read more about our footwear by clicking here
Error: Contact form not found.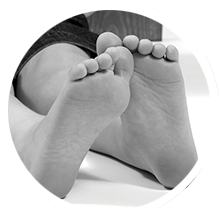 Many children present with flat feet or walk with an in-toeing gait. Some children who present with Dyspraxia and Hypermobility Syndrome require assistance with...
READ MORE HERE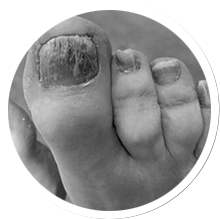 Does the colour and shape of your toenails concern you? Have you thick brittle toenails, are they ingrowing, are they discoloured? A Podiatrist can treat and advise you on the best course of action...
READ MORE HERE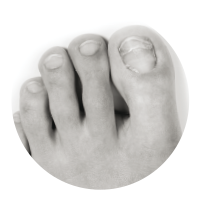 Athlete's foot and fungal nail conditions are persistent common foot complaints. Podiatrists can assist you with treating and advising you on long term solutions for these problems...
READ MORE HERE