Diabetes Foot Checks
According to the National Diabetes Foot care Program, by the HSE, 8 people a week loose a lower limb to Diabetes complications. There has been a increase in lower limb amputations from 393 in 2013 to 440 in 2015. It is estimated that there are over 225,000 people currently living with Diabetes in Ireland and this is steadily increasing annually.
Type 1 and Type 2 Diabetic patients can over time develop secondary lower limb and foot complications. Poorly managed Diabetes can lead to the development of Vascular (circulation) and Neurological (loss of or heightened feeling/ sensation) problems in their feet.
At Dalkey Podiatry Clinic, our Podiatrists are experts in assessing and managing an array of complex diabetic foot problems. If you have diabetes and have not had a foot check in the last 12 months click to book now .
Evidence based national and international Diabetes Foot care Programs recommend if you have diabetes you need to have your feet checked annually if you have low risk feet and every 3 – 6 months for high risk feet. The check-up will include looking at the following:
Blood flow to the feet (circulation)
Feeling and reflexes (nerves)
Unusual foot shapes (including bunions, claw toes and hammer toes)
Toenails
Dryness, calluses, corns, cracks or infections.
Patients with Diabetes are regularly checked using an ultrasonic Doppler to monitor their pulses and circulation. Neurological testing using monofilaments, tuning fork and neurotips are carried out to establish any development changes in their neurological status. Diabetes causes changes to nerve endings resulting in numbness of the affected area. People with diabetes can potentially and unknowingly injure themselves, resulting in wounds that are not treated and do not heal. Additionally, circulation problems can be apparent, causing an increased risk of infection.
To avoid problems, if you have diabetes, in addition to regular checks with your podiatrist, it is recommended that you commit to a regular foot care routine, including:
Visual inspection of the feet at least once per day for cuts, blisters, corns or calluses
Moisturizing feet on a daily basis
Cleaning and covering any blisters, cuts or abrasions
Wearing protective footwear at all times, especially if you have lost feeling in your feet.
Our Podiatrists are keen to impart their knowledge and expertise to assist patients in avoiding more traumatic complications such as wound care and amputation.
Regular treatment plans can be established and advice can be given regarding footwear, hosiery and orthotic management.
Error: Contact form not found.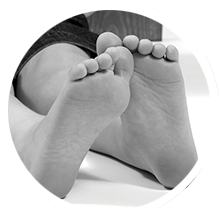 Many children present with flat feet or walk with an in-toeing gait. Some children who present with Dyspraxia and Hypermobility Syndrome require assistance with...
READ MORE HERE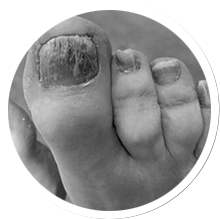 Does the colour and shape of your toenails concern you? Have you thick brittle toenails, are they ingrowing, are they discoloured? A Podiatrist can treat and advise you on the best course of action...
READ MORE HERE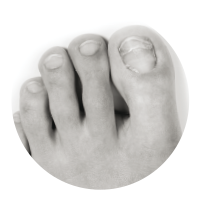 Athlete's foot and fungal nail conditions are persistent common foot complaints. Podiatrists can assist you with treating and advising you on long term solutions for these problems...
READ MORE HERE